Pokémon Centers: Waar Pokémon Liefhebbers Samenkomen
Hizkia de Kwant
Als je een Pokémon-fan bent, heb je waarschijnlijk wel eens gehoord van Pokémon Centers. Maar wat zijn ze precies en waarom zijn ze zo speciaal?
Wat zijn Pokémon Centers?
Pokémon Centers zijn veel meer dan alleen winkels. Het zijn speciale plekken die zijn gemaakt in de echte wereld om de virtuele wereld van Pokémon na te bootsen. Hier kunnen Pokémon-spelers informatie verzamelen en vermoeide Pokémon laten herstellen. Pokémon Centers bevinden zich zowel in Japan als in het buitenland en trekken grote aantallen bezoekers aan. Niet alleen kunnen spelers hier de nieuwste informatie vinden over alles wat met de games te maken heeft, maar fans kunnen ook originele Pokémon-merchandise kopen die nergens anders te vinden is. Omdat elke officiële winkel een uitgebreid assortiment heeft, zijn spelers en fans er zeker van dat ze hun favoriete Pokémon-item zullen vinden. Daarnaast exploiteren we Pokémon Stores, souvenirwinkels op internationale luchthavens en populaire toeristische plekken, "Pokémon Center Online" voor online winkelen en Pokémon Cafés die een menu aanbieden dat de wereld van Pokémon trouw nabootst.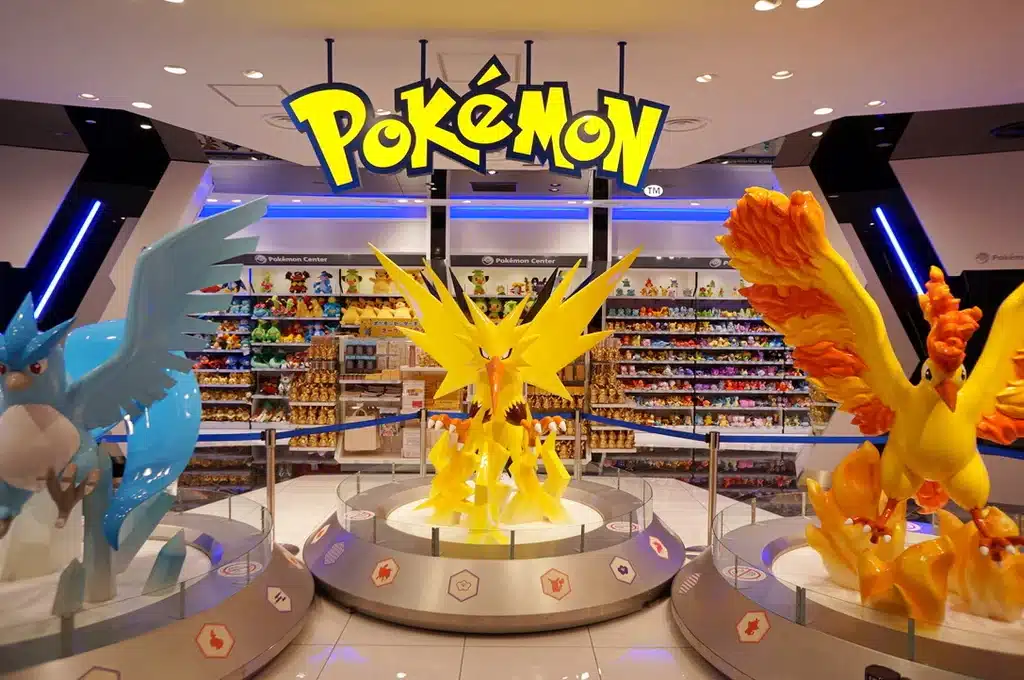 Pokémon Centers maken verjaardagen bijzonder
Pokémon Centers in heel Japan bieden een speciale traktatie aan bezoekers die op hun verjaardag komen. De jarige krijgt een Pokémon cadeau dat kan worden opgevoed in de "Pokémon"-game serie, of een AR-verjaardagskaart met Pikachu en een bloemenboeket. Een speciale verrassing wacht wanneer de kaart wordt gescand met een smartphone. Dezelfde service is ook online beschikbaar, waarbij het verjaardagsgeschenk in een speciale doos wordt geleverd. Of het nu voor jezelf is of voor iemand van wie je houdt, mis deze spannende aanbieding van Pokémon Center niet!
Geniet van een leuke pauze in het gezelschap van Pokémon
In maart 2018 opende Pokémon Center TOKYO DX & Pokémon Cafe in het Nihombashi-gebied van Tokio. Nihombashi is waar het verhaal van The Pokémon Company begon. Met de opening van de eerste Pokémon Center in 1998. Het nieuw geopende café met aangrenzende winkel werd direct een succes en trok in de eerste zes maanden maar liefst 100.000 bezoekers. Omdat dit het eerste permanente café-restaurant was – een geheel nieuw bedrijfsformat – heeft Pokémon veel nagedacht en moeite gestoken in het ontwikkelen van een menu. Dit weerspiegelt de unieke aantrekkingskracht van Pokémon. Het op Pokémon geïnspireerde menu wordt aangepast bij elke nieuw seizoen, waardoor elk bezoek zowel heerlijk als leuk is. In 2019 openden we een nieuw Pokémon Café in de Shinsaibashi-ruimte van Osaka, onze eerste in West-Japan.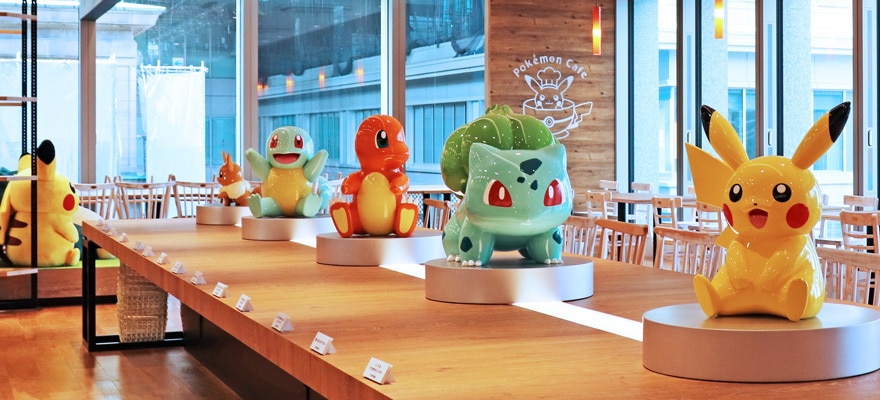 Het verstrekken van informatie in het buitenland via lokale winkels
Pokémon Center Singapore is onze officiële winkel die in april 2019 werd geopend. Het bevindt zich op de 4e verdieping van Jewel Changi Airport, een winkelcentrum naast Changi Airport. Dit is ontworpen door de wereldberoemde architect Moshe Safdie. Pokémon Center Singapore is de eerste winkel van The Pokémon Company in Azië buiten Japan en momenteel de enige permanente winkel in het buitenland. Eerdere ervaringen in het buitenland omvatten: Pokémon Center NY in het Rockefeller Center in New York, van november 2001 tot februari 2005; Pokémon Center Paris in Les Halles, juni 2014, voornamelijk gewijd aan het tentoonstellen van illustraties; en verschillende kleinschalige pop-upwinkels, op verschillende momenten bekend als Pokémon Center Branches.

Ben je ooit op vakantie in Japan, Engeland of Amerika? Aarzel dan niet om een Pokémon Center te bezoeken. Het is een unieke ervaring die je voor altijd bij zal blijven. De magie van Pokémon komt tot leven in deze speciale winkels, waar avontuur en verwondering op je wachten. Dus, voeg een Pokémon Center toe aan je reisroute en creëer herinneringen die net zo speciaal zijn als de wereld van Pokémon zelf. Veel plezier met het verkennen van deze fantastische wereld!